HGTV Fresh Faces Of Design Category Winner: Katie Marvin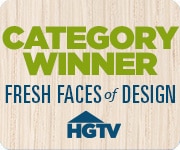 We Have A Winner! Katie Marvin of S&K Interiors was chosen by HGTV as the WINNER of the "Best Space For A Party" category in the HGTV Fresh Faces Of Design Awards where today's hottest young designers share their best indoor and outdoor spaces. – Thank you so much to everyone who voted and helped to make Katie # 1 in her category.
Congratulations Katie!
See Katie Marvin's Category winning interior design photos here – Fresh Faces Of Design HGTV: Best Space For A Party: